New PSA Software Buyer's Guide Helps Businesses Identify the Right PSA Software to Suit Their Specific Needs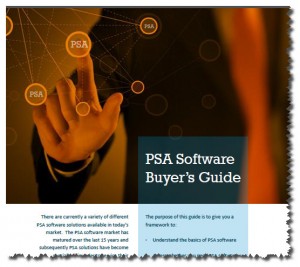 Oakville, Ontario – June 2014 – Promys Inc., a leader in PSA software for the IT solutions provider industry, is excited to introduce the new PSA Software Buyer's Guide. Promys believes that there is no longer a "best in class" PSA solution, only the PSA solution that best fits your particular requirements for your company's specific needs, which is why Promys developed the PSA Software Buyer's Guide as a free download to assist business owners and management teams who are investigating their PSA software options.
With a variety of different PSA software solutions available in today's market, it can be challenging to find the right PSA solution that best fits the particular requirements of the business. The PSA Software Buyer's Guide was designed to help business owners by providing a framework to:
Understand the basics of PSA software
Assess whether you need PSA software
Understand the different categories of PSA software and how to determine which PSA software is right for you
Discover how PSA software can improve your operational effectiveness and profitability
Complete a business analysis checklist to help guide your PSA software decision
"At Promys, we know that the PSA software market has matured over the last 15 years and subsequently PSA solutions have become specialized in order to service their particular market segments." says John Breakey, founder and former CEO of Cisco Gold partner Unis Lumin and current Promys CEO. "It can be very time consuming and resource intensive to fully assess PSA software solutions available on the market today. By offering the PSA Software Buyer's Guide as a free download, we hope to provide businesses with an easy-to-use and effective tool to drill down to in their business areas to make the critical decision of choosing the best PSA software option for their business."
Interested businesses can download this essential PSA software guide free by visiting our PSA Software Buyer's Guide download page.
"IT Solution provider businesses have had great success with our existing Mid-Project Profitability Scorecard which identifies gaps in mid-project profitability and our Quick Start Guide to Labor Utilization which offers an additional layer of insight and labor metrics to make informed decisions," Breakey continues.
Breakey adds, "The PSA software research, decision-making and implementation process can be arduous and choosing the wrong PSA software for your business can be costly. We hope that by providing the PSA Software Buyer's Guide, we will be able to help business owners in the early stages of the process."
For more information about Promys, please visit promys.com or call 1-866-728-2345 or email us at info@promys.com.
About Promys Inc.
The PROMYS professional service automation software was originally developed in 1998 to address the fundamental problem that the IT solution provider and it systems integrator industries face; how to tie services together with complex equipment solution delivery and multi-layered post-sales support.
In 2003, PROMYS was spun off as its own corporate entity. PROMYS quickly added customers in the IT solution provider and IT systems integrator marketplace, including one of the largest and most recognized technology solution providers in the world.