Better known doesn't mean better PSA software
Choose the right PSA software for your business. Our guide shows you how.
WE ARE A TOP-RANKED PSA SOFTWARE PROVIDER
Business Software for technology solution providers
Maximize your PSA Software ROI Our 20 step roll-out plan shows you how
Promys only wants happy, satisfied customers. That's why we've made it very easy to implement Promys and easy to leave us if you're not completely satisfied.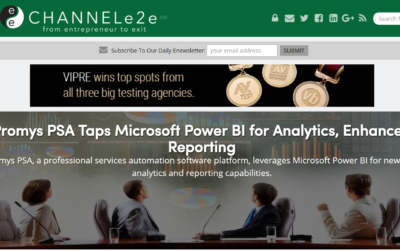 Click on the link to read the Ty Trumbull of ChannelE2E article about Promys PSA's new Intuitive & Easy to Understand Executive Reporting & Trending Analytics Based on an Integration with Microsoft Power BI...