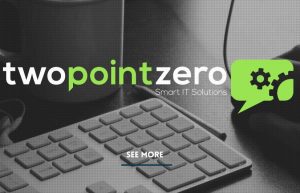 Toronto, Ontario – March 2016 – Promys, a leader in enterprise PSA business software for technology solution providers, announced that it has been awarded a contract by TwoPointZero IT Ltd, a rapidly growing IT Support and solution provider headquartered in Ipswich UK. TwoPointZero provides a range of Smart IT Solutions including PC's, Mac's, mobile devices, cloud services and Windows, Apple and Linux servers to Schools, Businesses, and other organizations. The Promys Enterprise PSA business software was selected in order to help TwoPointZero establish the best practices and provide the business software infrastructure to allow them to grow quickly and profitably.
"When we started the business we wanted to offer much better IT Support and solutions, something we feel is very much needed in our industry.  It really is IT 2.0, hence our name TwoPointZero IT! We have very aggressive growth plans and we've already exceeded all of our initial growth targets. When we started looking at PSA business software solutions, we all agreed that we wanted to select a PSA business software solution that was also based on current technology, PSA 2.0 if you will, something that we wouldn't outgrow 2-3 years from now", said Alex Chapman, Co-founder TwoPointZero IT.
"After evaluating the traditional PSA business software vendors, it's clear that PROMYS is one of the more advanced PSA's in the market. Promys just seemed a lot more intuitive and easier to use for our team, while at the same time being more comprehensive. The fact that they don't change extra for quoting, mobile, purchasing, or e-mail and calendar integration was also a big plus." continued Alex.
John Breakey, founder and former CEO of Unis Lumin, a Cisco gold Partner and current CEO of Promys adds, "We re-wrote Promys PSA from scratch over the last 3 years because knew putting "lipstick on the pig" wasn't going to allow us to take our customers to the next level.  The new version of Promys allows our customers to provide higher levels of service to their customers while providing terrific visibility into their businesses."
Find out more about the different PSA business software options available today and which is the best fit for your needs. Download the PSA Business Software Buyer's Guide Now.
Promys is currently used by some of the largest technology Solution providers in North America, the UK, and Australia. PROMYS was originally developed for a Cisco Gold/Master partner in 1998 to address the fundamental problem that IT solution providers face – how to tie professional services together with complex equipment solution delivery and multi-layered post sales support.
Since then Promys has quickly added technology solution providers and systems integrators in IT, managed services, A/V and Physical Security, including two of the largest and most recognized technology solution providers in the world.
For further information on Promys, please visit www.promys.com or call 1-866-728-2345.
About TwoPointZero IT
We are based in Ipswich, Suffolk and offer IT Support and Solutions to Businesses in Ipswich, Bury St Edmunds, across Suffolk and further afield including Colchester, wider Essex and London. Some of our clients have a nationwide presence, so we're able to cover the whole country.
For more information, please visit http://www.twopointzeroit.co.uk, or call +  01473 851460