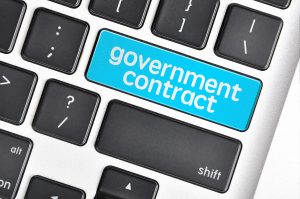 Toronto, Ontario – April 2016 – Promys, a leader in enterprise PSA business software for technology solution providers, announced that it has released Government Contract quoting and reporting functionality. There are hundreds of federal contracts and thousands of state, municipal and education government contracts, each with their own special pricing discounts for hardware, software and managed services or maintenance. Promys has released functionality to enable automated quoting and reporting against all of those government contracts.
"Many Promys PSA customers have been successful at registering and being approved to provide solutions under government contract pricing. But manually tracking the different government contract discounts and ensuring that their contract quoting and reporting is consistently accurate was an administrative nightmare." Said David Donnelly, VP of Product Development for Promys. "Promys' recently released customer-specific pricing functionality and so the next logical enhancement was to help our customers eliminate the quoting and reporting headaches associated with managing government contract specific pricing."
"Promys tracks the original 'not to exceed' pricing, even if the Sales rep discounts an item and automatically requires quote approval if item pricing is raised above the contract 'not to exceed pricing'. Promys even allows line items to be added from multiple different government contract price books and then tracks which items belong to which government contracts for reporting purposes. The government contract quoting and reporting functionality in Promys will significantly reduce our customers' administrative burden and ensure that all government contracts quoting and reporting is consistently accurate." continued David.
Promys CEO John Breakey adds, "We re-wrote Promys PSA from scratch over the last three years because we knew 'putting lipstick on the pig' wasn't going to allows us to take our customers to the next level.  The new version of Promys is designed to support much more robust pricing and reporting capabilities, such as the new functionality for government contract quoting and reporting."
Find out more about the different PSA business software options available today and which is the best fit for your needs. Download the PSA Business Software Buyer's Guide Now.
Promys is currently used by some of the largest technology Solution providers in North America, the
UK and Australia. PROMYS was originally developed for a Cisco Gold/Master partner in 1998 to address the fundamental problem that IT solution providers face – how to tie professional services together with complex equipment solution delivery and multi-layered post sales support.
Since then Promys has quickly added technology solution providers and systems integrators in IT, managed services, A/V and Physical Security, including two of the largest and most recognized technology solution providers in the world.
For further information on Promys, please visit www.promys.com or call 1-866-728-2345.