Get Your Mid-Project Profitability Scorecard Now
Stop Losing Money – Project Profitability Scorecard Identifies the Gaps in Your Project Revenue Stream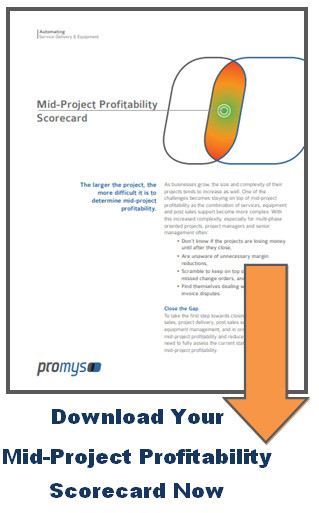 As businesses grow, the size and complexity of their projects tends to increase as well. One of the challenges becomes staying on top of mid-project profitability as the combination of services, equipment and post sales support become more complex. With this increased complexity, especially for multi-phase oriented projects, project managers and senior management often:
Don't know if the projects are losing money until after they close,
Are unaware of unnecessary margin reductions,
Scramble to keep on top of scope creep or missed change orders, and
Find themselves dealing with customer invoice disputes.
Download Your Free Project Profitability Scorecard Now
Take the first step to identify any existing gaps between sales, project management, service delivery, equipment management, and sales support. Fill out the form below to receive your free Mid-Project Profitability Scorecard today.
The larger the project, the more difficult it is to determine mid-project profitability.