Mid-Project Profitability
As projects get larger, determining mid – project profitability becomes more and more difficult.
As businesses grow, so do the size and complexity of their projects. This increased complexity, especially for multi-phase projects, often results in not knowing if projects are losing money until well after they close.
As the combination of services,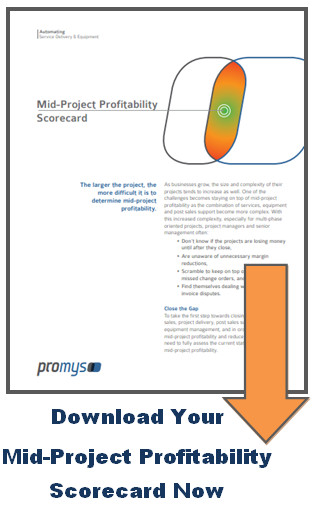 equipment and post sales support becomes more complex, here are the questions that IT solution providers should be asking:
Which service, equipment or support items were under bid?
Did the project managers know early in the project there was a problem?
Did we incur any unexpected additional hours or overtime?
Were any additional materials used?
Have we invoiced for everything we were supposed to?
Were there any unbilled change orders?
Did the subcontractor budget impact project profitability?
If you can't quickly and easily answer these questions, then the likelihood of making any proactive changes that might help current projects are very low and the likelihood of making the same mistakes on the next project are very high.
Because PROMYS automates business processes not just operational tasks, this allows Promys to monitor the profitability heartbeat of projects in every stage of delivery with business automation software that tracks the original quote margins and compares that to the sales order and project actuals. That means you get visibility into the cost against budget status of labor, materials and subcontractor deliverables for every project in real time.
This allows PROMYS customers to lead the industry in:
If you only find out if a project is losing money after it closes, if projects are running over budget and you're not sure why, and if you're only getting notified of project issues after it's too late, Promys can help.
PSA Software Buyer's Guide