Next generation PSA software allows seamless transition between any device.
What's the problem with mobile app-based PSA software?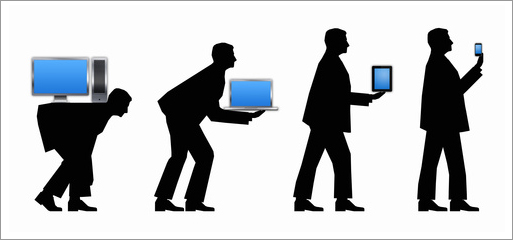 PSA software was originally designed to fix the headaches caused by having to rekey data between separate disconnected CRM, quoting, help desk, project management and time sheet software.
These disconnects required employees to send e-mails, leave voice mails and write things on pieces of paper, that may or may not eventually get re-keyed into one of the software applications. This caused delays, miscommunication and mistakes and that negatively impacted efficiency, customer satisfaction and company profitability.
Replacing the disconnected applications with a single shared enterprise PSA solution significantly reduced delays, mistakes and inefficiency and improved customer satisfaction and profitability.
Mobile app-based PSA's re-create the problem PSA software was originally designed to solve.
The problem with apps is that you have to download an "app" for each mobile device and each app only had access to a fraction of the overall PSA functionality.
And so, if you need access to more functionality than the app provides, you're back sending e-mails, leaving voice mails and writing things on pieces of paper, which causes delays, mistakes and inefficiency.
A true enterprise PSA strategy is based on device independence
The premise of an enterprise PSA strategy is based on device independence and for users to seamlessly transition from one device to another while accessing any PSA functionality on any device. Almost every user now has at least three devices: PC/laptop, smartphone and tablet.
But that's only the first step. The challenge is that simply taking the big screen desktop/laptop interface and making it available on a small screen mobile device makes for a poor user experience. We've all visited web sites that were clearly not optimized for small screen devices and the pinching and scrolling is annoying at best and dysfunctional at worst.
So, for an enterprise mobile PSA solution to be truly effective, you need to add a "smart interface" to simplify navigation on the smaller screen devices while maintaining access to all enterprise PSA functionality.
If you talk to most operational users, it is clear that very few business processes start and end cleanly within the confines of what could be serviced completely by a device-based app.
The enterprise mobile PSA vision is that all users would be collaboratively sharing the same data in real time and that any user could answer virtually any customer question, whether they were in the office or in the field.
Misconceptions about PSA mobile strategy
Most operational users are probably reading this blog and thinking,
"That's great. But what about…"
There are some typical misconceptions associated with an enterprise PSA mobile strategy:
Speed: The truth is that local device-based apps will perform slightly faster than browser apps; how much faster depends on the OS and browser. However, a well-designed enterprise mobile PSA will minimize graphic intensive work so any performance difference will be negligible and not noticeable to the user
Data-caching: There is often a misconception that a local device-based app is required to data cache or work offline. Enterprise mobile PSA's based on HTML5 for example can also data cache and work in disconnected/sync mode.
Notifications: Some also incorrectly believe that a local device-based app is needed to leverage local iOS or Android alerts. In reality, an enterprise HTML5-based mobile PSA can provide exactly the same functionality
Local device-based app support: A final misconception is that in order to leverage local device-based functions you have to have a local device-based app. However, tools like jQuery mobile allows an enterprise HTML5-based mobile PSA to access almost everything on mobile devices including:

Camera
GPS
Local database
Accelerometer
Files
Media
Push (via 3rd party API)
Is responsive customer service and real-time collaboration between departments important to your business? Implement a device-independent enterprise PSA vision.
The other problem with device-based apps is that they are supported by secondary device-specific codebases that economically disadvantage mobile users from getting the all features the mobile user needs. A local device-based app approach basically means your PSA software developer has to have dedicated resources allocated to supporting each mobile app platform. That means three times the software development resources to create the exact same set of functionality. That is not the most effective or efficient way to provide maximum enterprise PSA functionality for your users.
If you'd like to find out more about what an ideal enterprise device independent PSA solution looks like, watch the Promys PSA Anywhere video or download the brochure.