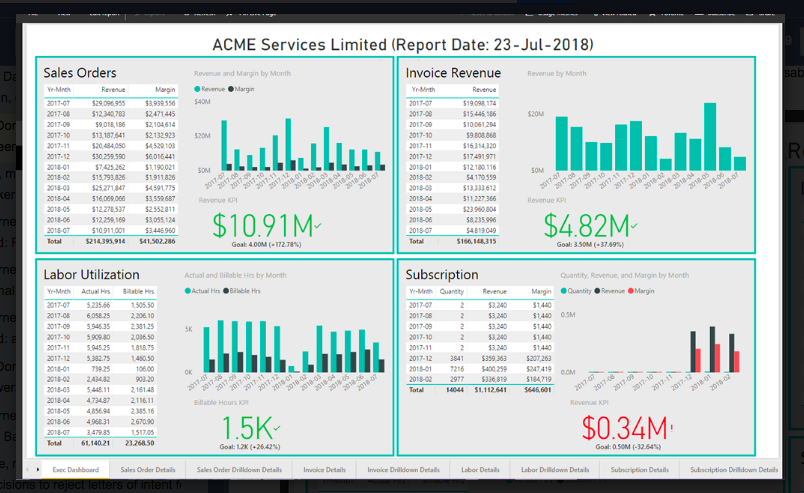 PSA/HelpDesk Softare - Is it a Cost or Investment
As a service-based technology integrator, how do you select the best solution to replace your current PSA software? The PSA market has many choices and price ranges so how do you get it right?"   You're not alone in your questions. Many service-based companies face this challenge. This article will give you a checklist to consider before you take the next step. Align your business problems with the functions, pricing, and ongoing support that you want in a CRM/PSA/Helpdesk solution. 
Business Problem 
What are the concerns or challenges expressed by CEOs and business owners?
More focus on margin yield vs. revenue
Improve cash flow (days aged)
Forecast labor capacity needs 90 days out
Make KPI data easier to access by pushing reports to me automatically
Reduce the number, complexity & cost of software systems
Increase efficiency & better workflow as we grow
Financial Justification – cost or an investment?
Buying new tools for a business is often viewed as an expense. It makes sense especially when it is unclear as to how and when an ROI will occur. How should you track and tangibly measure the return on PSA/Helpdesk software? 
Here are the experiences and wisdom of those CEOs.
Margin:
By tracking the margin on quotes before they went to customers they increased the average margin by 1.5 to 2%. For every $1m in revenue this increased contribution to overhead by $40k/$1m of revenue. Conversations with sales reps about margin vs. revenue become the norm. With easier reporting, sales compensation emphasized margin goals. With a unified software solution, the analysis of quote-to-actual margin & profitability strengthened the feedback loop to improve margins at the quoting stage.
Cash Flow:
The lifeblood of a growing business is cash flow. More growing businesses end up in bankruptcy protection because of cash flow rather than lack of sales. CEOs lament about the stress it puts on them personally and on the business. When a Line of Credit gets too big, banks like to dictate how the business should operate.
Product distributors typically offer 30 day terms of credit. If your business takes an average of 15 days to deliver and invoice, and assuming customers pay within 45 days your business is financing 30 days of receivables (15 days + 45 days – 30 days). Labor services have a greater challenge. If employees are paid biweekly and services are only billed at the end of a month then receivables expand to 60 plus days. 
CEO's wanted to reduce their days aged (carrying cost) by 5-10 days. They did this with the help of better workflow software where they could invoice completed projects or service activity every week (or every day) rather than the common practice of end-of-month billing. Take for example a business with an average Line of Credit (LOC) of $750k. Assuming a 9% interest rate, the LOC costs $67.5k per year. Reducing days aged by 10 days saves $22.5K
Utilization:
Technology integrators sell a mix of products and services typically operating on a revenue ratio of 60/40. For Managed Service Providers (MSP) a bulk of their revenue is services. However, most do offer software licenses or 3rd party services (storage, maintenance contracts, etc.) that classify as products resell. So their ratio of product/services is on average about 20/80.
While utilization varies between companies the dividing line between success and underperformance is about 65% gross utilization (all paid hours vs. net scheduled hours). Based on a 160 hour month, 65% utilization equals 104 billable hours. Using a bill rate of $110 this generates $11,440 of monthly revenue. A 5% improvement is 8 hours, or $880/month, or $10,560 annually per resource. For a 22 person company with 10 billable resources, a 5% utilization improvement represents an additional $105,600 contribution to overhead.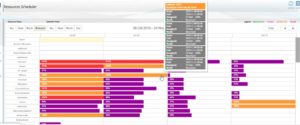 How did the choice in software solutions help those CEOs to improve their utilization?
More accurate labor estimates on quotes
Itemized labor tasks at the quoting stage (hidden from a customer)
Using capacity planning reports to schedule more effectively
Tracked & monitored billable utilization, average billing rates and 30/60/90 labor forecasts. "If you can't measure it, you can't manage it."
Stopped the leakage of extra on-site work that never gets reported or billed
Software Solution Cost 
A monthly per-user subscription cost can range from free to about $150. Free is really a limited promotion to upgrade you to the paid solution you really should have deployed. It's not uncommon that businesses buy a single product for a specific department. Eventually, they end up with multiple systems for customer contacts, another for quoting, and others for resource scheduling, ticketing, and invoicing. A disconnect between systems, the lack of a 360 view of customers, and inadequate KPI reporting work against the business to optimize results. Also, consider the benefit of a solution that was designed specifically for a service-based technology business. Referred to as a Vertical solution, they offer more best practices and include subtle features that are easy to miss in a Horizontal (general) solution.
For a system that offers CRM/PSA/Helpdesk and high-quality reporting/analytics, you can expect to invest about $45 to $75/seat/month.
Bottom Line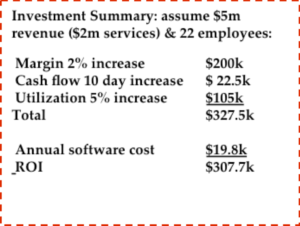 The financial results illustrated here are taken from a collection of service-based technology integrators across a range of specialties in IT, Physical Security, Audio Visual, and Structured Wiring & MSP companies.   While good management and goal setting are important for success, selecting a software solution that matches those goals makes them more easily attainable.
A return of $307k on a $20K purchase is a smart investment. But assume that you may not get all of the results shown here. Even discounting these results by 50% still yields $154k or a 750% ROI.
What should you do now? If Margin, Cash flow, Utilization, KPI Reporting and Profits are as good as they can get then stay your course. But if you want better outcomes then it may be time to invest in your future.
Motivated to change your outcomes? Want some help? Contact us so we can share our knowledge and tools or get a referral to one of our 3rd party business process consultants who specialize in MSP & SI optimization. Your success is our success.
Learn more about how Promys can help your business at https://promys.com 
Author: Lyndsay Cohen     mailto:lcohen@promys.com