Toronto,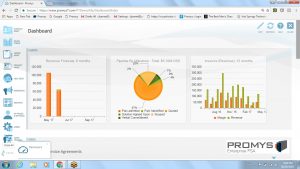 Ontario – May 3rd, 2017 – Promys, a leader in PSA business software for technology solution providers, announced the release of a Managed Services and Subscriptions Recurring Billing module & Managed Services and Subscription contract profitability tracker.
"Promys already had a 'semi-automated' way of processing Managed Services, Subscriptions and other recurring invoices in our software, but we've really taken the next step in automating the recurring billing process, while addressing many concerns we heard expressed in interviews with several of our competitors customers," said David Donnelly, VP of Product Development for Promys.
"Promys addressed three key customer challenges with our Recurring Billing Module:

Capture all recurring billing items: Make it easy and efficient to capture all recurring billing and recurring cost items, but with the flexibility to handle exceptions.
Contract Profitability tracking: Provide real-time visibility into the profitability of Managed Services, Subscriptions or other recurring billing contracts, including accumulated billing to date, one time and recurring costs and any ad-hoc support/ticket based support services.
Flexibility to manage changes: Provide the flexibility to change quantities, terms, or combinations of recurring billing items on a recurring billing contract, at any point in the contract term (with full audit trail).
The most interesting feedback we collected from interviews with several of our competitors customers, was how hard it was to determine the "true" profitability of Recurring Billing/Managed Services/Subscription Contracts and how cumbersome it was to make changes mid-contract. Our goal was not only to address those issues, but also to add value by kicking off automated notifications when contracts were trending towards unprofitability, vs. showing a report after they had already become unprofitable. We also wanted to be able to provide the flexibility to include both initial set-up costs, recurring costs and ad-hoc/ticket based support costs, in order to track true contact profitability," David continued.
John Breakey, Promys PSA founder and former CEO of Unis Lumin, a Cisco gold Partner adds, "We re-wrote Promys PSA from scratch over the last 3 years because we knew putting 'lipstick on the pig' wasn't going to allow us to take our customers to the next level.  The new version of Promys supports much more robust and flexible recurring billing and contract profitability tracking, while providing our customers with state of the art business software and analytics to enable them to run their businesses more effectively and efficiently."
Find out which is the best PSA software for your business. Download the PSA Software Buyers Guide Now.
Promys is currently used by some of the largest technology Solution providers in North America, the UK and Australia. PROMYS was originally developed for a Cisco Gold/Master partner in 1998 to address the fundamental problem that IT solution providers face – how to tie professional services together with complex product solution delivery and multi-layered managed services and post sales support.
Since then Promys has quickly added technology solution providers in IT, managed services, A/V and Physical Security, including two of the largest and most recognized technology solution providers in the world.
For further information on Promys, please visit www.promys.com or call 1-866-728-2345.