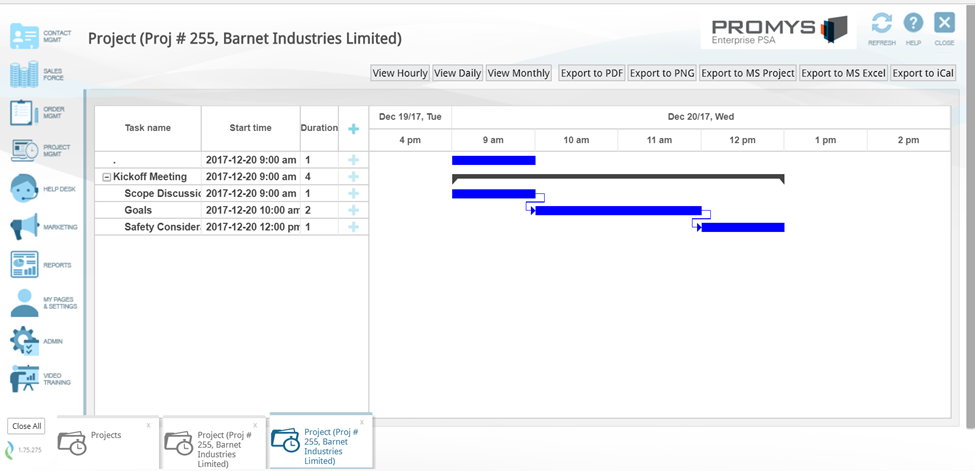 Toronto, Ontario – March 29th, 2018 – Promys, a leader in PSA business software for technology solution providers, announced that it had released easy to use and powerful Project Management functionality that provides PM's with real-time visibility into project cost against budget performance, provide early warnings for project over-runs, efficiently manage resources and skill sets and cycle implementation lessons learned back into the quoting process.
"Many of our customers are pretty sophisticated when it comes to Project Management processes, but a good portion of them have also struggled with the complexity of many of the stand alone Project Management solutions in the market.  Using a stand alone PM solution also makes it hard to easily compare quoted estimates with project actuals, coordinate procurement with service delivery and easily cycle implementation lessons learned back into the quoting process," said David Donnelly, VP of Product Development for Promys.
David continued, "By adding these new Project Management enhancements, Promys is now one of the only PSA solutions that is equally strong in Project Management and in Help Desk Ticketing & Managed Services".
Promys addressed three key customer challenges with our new Project Management functionalty:
Make it easy to use: Promys allows PM's to quickly and easily create project estimates and import those estimates directly into Quotes. Once the order is won, the project inherits those estimates as initial project budget for solution delivery. You can designate project tasks that require specific skill sets and specific labor rates (Tech level 1, Tech level 2). Once the project start date is set, Promys even has the capability to auto-assign available resources based on resource skill sets and availability.
Provide the key functionality of a stand alone PM solution, without the complexity: Promys worked very closely with customer Project Managers to confirm the high value Project Management functionality that would make their lives easier, without making it complex and hard to use. The Promys PM module has Ganting (changes to the Gant automatically update the Project Schedule), skill set tracking, auto-assignment of available resources, easy time & expense entry, milestone billing, user defined escalations and provides real-time visibility into project cost against budget performance.
Link the overall PSA business processes to the PM module: Project Management is part of an overall business for most technology solution providers, not a stand alone department and so having stand alone PM software doesn't make much sense. In Promys, the Quoted labor estimates automatically tie back to Project actuals (including pre-sales hours). This supports real-time cost against budget monitoring and improves future labor estimating accuracy.  PM's can see real-time Product/Equipment delivery status in order to coordinate professional services delivery dates. Customer pre-paid blocks of hours can be drawn down by both Project and Help Desk activities. All related business processes can be linked to Project Management activities, because it's all part of the same solution.
John Breakey, Promys PSA founder and former CEO of Unis Lumin, a Cisco gold Partner adds, "We re-wrote Promys PSA from scratch over the last 3 years because we knew putting 'lipstick on the pig' wasn't going to allow us to take our customers to the next level.  The new enhancements to the Promys Project Management module makes it much more user friendly so that PM's will actually use it, and ties Project Management back to the rest of the company business processes, which allows Promys customers to run their business in a more coordinated way. That's another reason why Promys is currently one of the best reviewed PSA software solutions in the industry."
Find out which is the best PSA software for your business. Download the PSA Software Buyers Guide Now.
Promys is currently used by some of the largest technology Solution providers in North America, the UK and Australia. PROMYS was originally developed to address the fundamental problem that technology solution providers face – how to tie professional services together with complex product solution delivery and multi-layered managed services and post sales support.
For further information on Promys, please visit www.promys.com or call 1-866-728-2345.