New device-independent PSA software allows businesses to revolutionize their relationship with their customers with real-time access to all PSA information anywhere without downloading an app.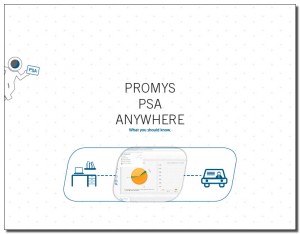 Oakville, Ontario – January 2015 – Promys, a leader in enterprise PSA software for technology solution providers, announced the release of a completely device-independent version of their PSA software, Promys PSA Anywhere.
The newest version of Promys allows businesses to revolutionize their relationships with customers with:
Anywhere, anytime PSA functionality allows users to access any customer information from any device and collaborate with any department in real-time.
The ability to share almost any PSA information via the customer self-service portal.
No need to have multiple apps for different devices. The Promys smart mobile GUI provides the same PSA functionality optimized for small screen devices.
"Over the last 10 years, Promys has added significant functionality to our enterprise PSA software. The focus on "enterprise" PSA functionality, as opposed to traditional ticket-based PSA functionality, has resonated strongly with our customers as demonstrated by our own aggressive growth," said Jim Barnet, Director of Sales at Promys.
Barnet continued, "Three years ago, we saw the writing on the wall. Almost all users were transitioning to 3 devices: PC/laptop, tablet and smartphone. The traditional mobile app-based approach was not going to support our customers' enterprise PSA vision because apps only allowed mobile users to access a small fraction of our enterprise PSA functionality."
"So, we decided to bite the bullet and re-write our solution from the ground up on a device-independent cloud-based technology platform. The result is Promys PSA Anywhere, which allows users access any enterprise PSA functionality from any device." Barnet concluded.
Peter Boetcher, Promys' Director of Product Development added, "Changing to a device-independent technology platform was only half the battle. We also needed to create a smart mobile GUI to simplify the navigation on small screen devices without losing access to the enterprise functionality. So far, customer feedback is that we nailed it."
John Breakey, CEO of Promys remarked, "We didn't invest all these resources and time just to change technology platforms. Our enterprise PSA approach is based on what customers really want, which is to automate their entire operational business process on one enterprise PSA platform. This allows them to become a more efficient and effective businesses, which is necessary if they want to continue to scale."
Breakey continued, "With the advent of the three device world, our customers really wanted to continue to leverage that same enterprise capability. They also wanted it in the palm of their hand on any device when they were out of the office, which would allow them to collaborate between departments more effectively and respond to customers more quickly, no matter where they were. Ultimately, that would allow them to be more efficient and profitable, which is why they had invested in PSA software to begin with."
To find out more about the new device-independent PSA software, Promys PSA Anywhere, interested businesses can watch the video, download the brochure or get a demo.
Promys also offers useful tools as free downloads to help businesses during growth mode like the PSA Buyers Guide to help determine which category of PSA is the best fit for a business' requirements.
About Promys
Promys is currently used by some of the largest technology solution providers in North America, the UK and Australia. Promys was originally developed in 1998 to address the fundamental problem that technology solution providers face – how to tie professional services together with complex equipment solution delivery and multi-layered post-sales support.
In 2003, Promys was spun off as its own corporate entity. Promys quickly added customers in the technology solution provider, systems integrator and managed services marketplace, including one of the largest and most recognized technology solution providers in the world.
For further information on Promys, please visit www.promys.com or call 1-866-728-2345.